Custom Photo VIVO Y 20 G Case
Buy a new phone cover for VIVO Y 20 G personalized with your choice of photo print for your smartphone. From OMGs, you can get a customized phone cover at very affordable prices.  The custom photo cases are transparent phone covers with a photo printed on the back. You can upload a picture that you want to be printed on the phone case. It can be your own photo or an art design which you like. We will print it without any changes to your VIVO Y 20 G photo phone case. A phone cover not only looks stylish but also protects your smartphone from any damages that may happen as you carry it throughout the day.
Why you should buy from us?
Rest assured as we make sure to manufacture your phone case with precise cuts and finishing. The ports are easily accessible and clearly visible through the phone case. The cover is ultra-slim and light in weight which provides for an unrivaled premium experience. Some of the features that our VIVO Y 20 G custom photo phone cover has are listed below:
Our VIVO Y 20 G personalized case is ultra-slim and light.

Case with custom text printing

The use of a stylish font and the color of the text

Precision cut-outs and a perfect fit

All ports are easily accessible.

UV print with a longer lifespan

A premium case that is soft, translucent, and flexible.
Case care instructions
When you buy your VIVO Y 20 G stylish cover from OMGs, there is a guarantee of high-quality prints that are fade-resistant. But you cannot avoid degradation of any item with time, thus there are some things you should take care of. Scratching or scrubbing the printed area may cause damage to the printed cover. Your warranty will be voided if you do so. Avoid exposing the casing to harsh chemicals or direct sunlight for a long time. The material might oxidize and silicone is prone to change colors if that happens.
Payment and delivery information
From the comfort of your home purchase the new VIVO Y 20 G Back Cover with photo print. We provide online payment methods to all our customers to ease the payment procedure. The products on our website are completely customized and cannot be returned. If the customer rejects the order at the doorstep, we have to cope with the loss, which is why cash on delivery is not available. Once you've completed the design and acknowledged the finished product on the preview screen, you can quickly make your payment.
After completion of the order, we send the phone covers straight to our printing team and it takes only a few hours for the product to be ready for dispatch. After dispatch, you will receive your order within 3-7 days. Provide us with a properly detailed address and your correct pin codes so our delivery partners can find you faster.
Delivery Note: Actual shipping & delivery time might be affected by
COVID-19 restrictions.
For any queries related to your order, you can reach out to us at support@omgs.in or 9653941887
Order now and save up to 50% now.
Personalised Vivo Y20 G Case FAQs
Q: Are your Vivo Y20 G custom cases clear?
A: Yes, all our Vivo Y20 G custom cases are clear unless specified
in the product description.
Q: Does your soft clear case offer precise cut-outs?
A: Yes, our soft customised Vivo Y20 G clear case offers precise cut-outs.
Q: Does this Vivo Y20transparentcase offers protection?
A: Our normal/softtransparentVivo Y20 G cases offer protections from minor drops, scratches and smudges. For maximum all-round protection, we recommend upgrading to a shockproof case and applying a tampered glass on the display.
Q: Do you offer free delivery on all orders?
A: Yes, we offer free delivery on all the products unless mentioned. We have partnered with BlueDart and India Post to offer ultra-fast premium shipping experience to all our customers across India.
Still got questions?
Reach out to us and we'll answer them all.
Shipping & Delivery (Fastest Delivery)
Fulfilment & Dispatch Time: 1-3 Working Days
Shipping & Delivery Time: 3-7 Working Days
Delivery Note: Actual shipping & delivery time might be affected by
COVID-19 restrictions.
Custom Text Printed Vivo
Transparent TPU
case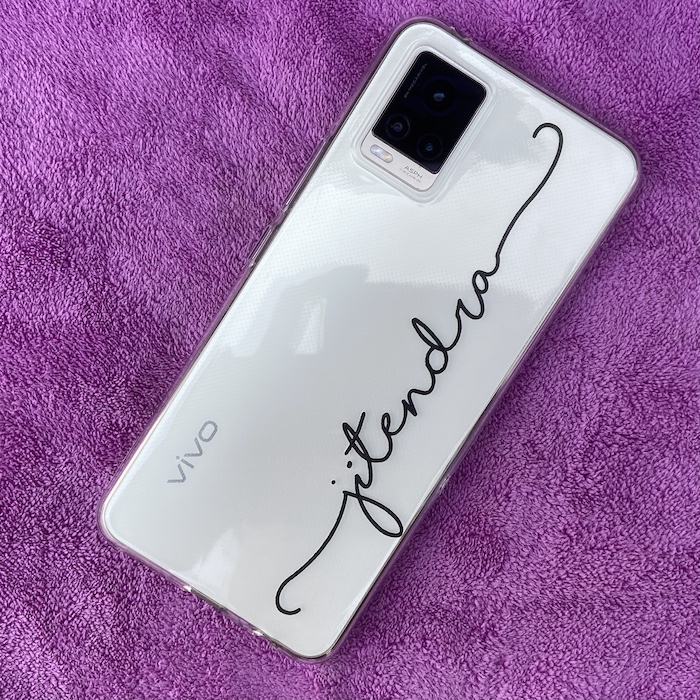 Get your name printed on the back of Vivo Smartphone's transparent TPU case and showcase your style to the world around.
Our custom phone case is,
 Lightweight case
 Custom text print case
 Stylish font and text color choice
 Precise cut-outs
 Perfect fit
 Long-lasting print
 Soft Transparent Premium TPU
Order now.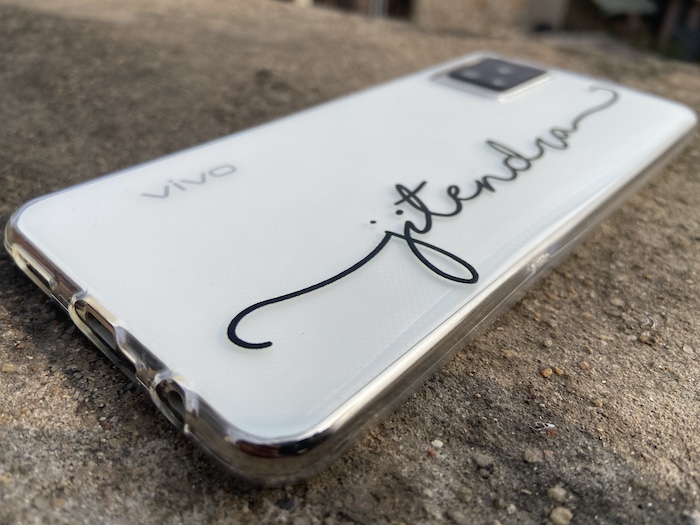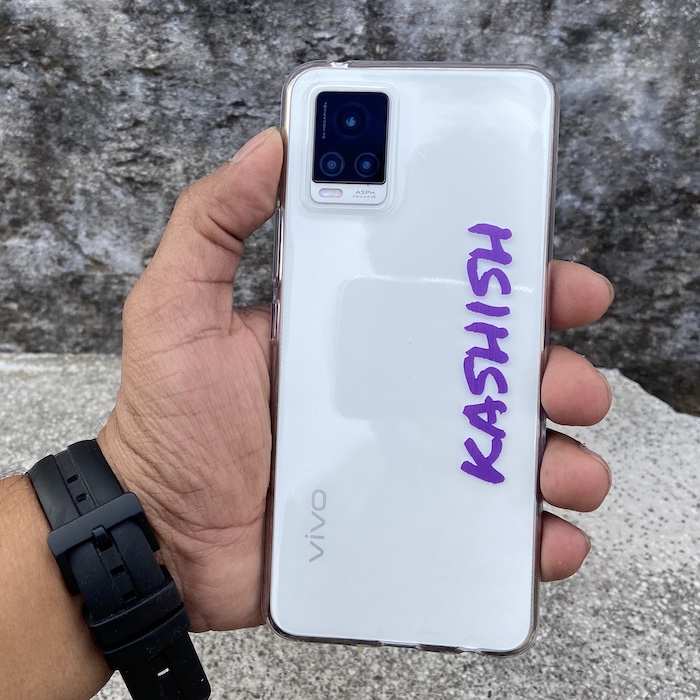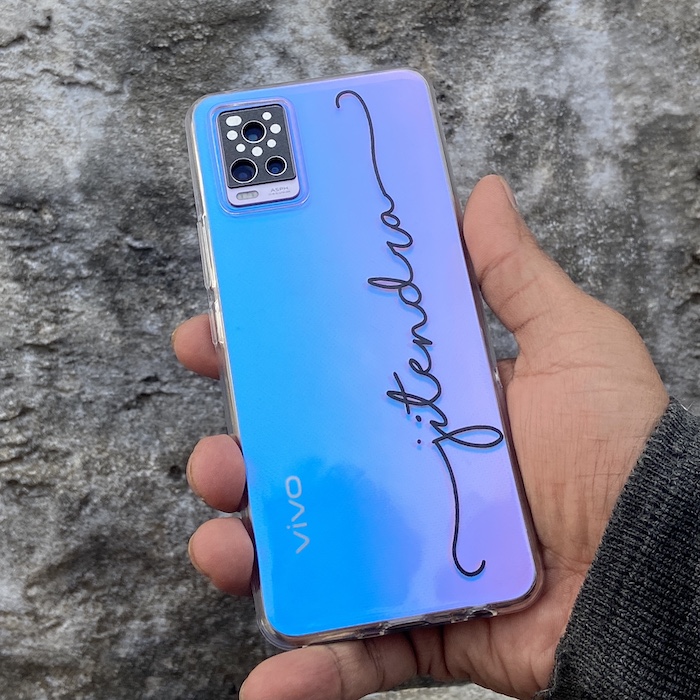 Care Instructions
Do not scratch/scrub the printed area as you might damage the printed case. Doing this will void your warranty.
Do not expose the case to direct sunlight or harmful chemicals for long.
Note: Phone color is for preview purpose. You'll receive transparent TPU case with your custom text. Actual product may look different than digital pictures. We source our cases from multiple manufacturers. They are slightly different in the way they look.
About free gift: We ship a free gift with all our orders but it's subject to availability of the stock. It's a free gift from our side. Customers don't have to pay anything for it.
Still got questions? Reach out to us and we'll answer them all.
SHIPPING & DELIVERY (Fastest Delivery)
Fulfilment & Processing Time: 1-3 Working Days. Shipping & Delivery Time: 3-7 Working Day.
Note: Fulfilment, Dispatch & Delivery time might be affected by COVID-19 restrictions.