It can be a gruesome task to decorate your house with a vast number of themes and choices available in decoratives. But once you have figured out what look you want in your room, the task becomes fairly easy. Trends change with the seasons and so does our choice of colours. If you are into bright and bold decor these days and want to incorporate these hues in your bedroom, living room, etc. then this blog is for you. If not, let us know what theme we should cover next. So read along to find out some trending ways to make your house as bold as yourself.
Add a statement furniture
If you really want to make a statement in your house you can use a statement piece to add. The first thing that comes to mind when we talk about house and room, is the furniture. Stepping out of your comfort zone you can add an item of furniture that stands out and will change the vibe of your house. It can be a couch with bright colour covers on it to compliment the vibrant theme you want. Or simply a flower vase set of varying sizes around the living room to liven up every corner. You can also browse for decorative items such as showpieces or religious motifs which are hand-painted in bright colours for a homely atmosphere. You can go for furniture with monotone or with a chick pattern but make sure only one item is of such theme. Multiple patterns will overdo the decor and it may turn out messy.
Vivid prints on the wall
The walls of the house are always a blank canvas you can add your art to. Get your favourite vibrant art pieces printed and hang them on the dull wall. The latest printing technique is acrylic photo printing with bold and shiny prints of any picture that you like. You can use these to make a gallery wall and fill your room with some colour. You can use your own photos to be displayed on the wall as well. A pastel wall will be perfect for such a set-up as the glossy and striking colours of the acrylic will create a balance. You can find affordable acrylic photo frames easily online at our store. Browse and find the print that suits your decor theme here.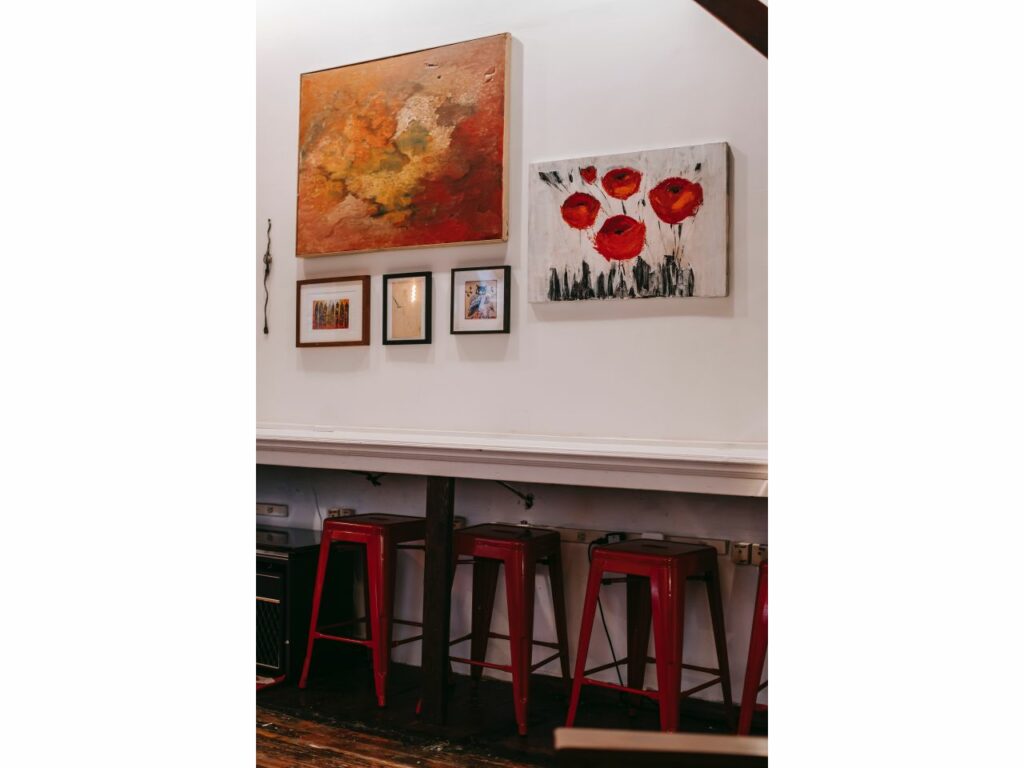 A wall makeover can do the trick
If you do not want to drill holes in your walls or want a full wall with some accent instead of a small space filled with colour then you can opt for a different approach. You can choose to colour your wall in a bright colour, design it with some beautiful and bold pattern, or add some class with a deep hue. In modern home design, there are various colours in focus such as bottle green, deep red, magenta, royal blue, etc. These colours can add some life and royalty to your wall without spending much. There are many companies that provide colour palettes and designs that are trending which you can use for inspiration for your home. You can also customise the wall colours and patterns to suit your taste.
Signature rugs and curtains
The furniture is not the only decor we add to our houses. There are curtains, carpets, rugs, beddings and blankets to add some cosiness to your room. These items can also play an important role in defining the theme of your house or room. You can buy signature rugs and carpets that signify your taste and elevate the look of your house. Curtains are usually for windows and large balcony doors, to resist excess light, but can be used for casual decor in the entryway or to separate an area. In this manner, you can select colours and designs that complement the theme you have chosen. You can also experiment with fabrics from soft cotton to rich silk for a classy look. If you are redecorating your bedroom to achieve a vibrant atmosphere then it is better to change the beddings and couch covers to a bold colour instead of changing the wall colours. Firstly it is more economical and secondly in case you have a change of heart after some time and start redecorating then it will be easier. So, fabric decor can be a flexible option to renovate the house and it is light on your pocket.
There is always more than one method to implement your plan. Now it's on you which method you want to choose. We hope the tips we compiled will help you in getting your desired bold and vibrant theme. The walls are a staple to the decor in any house and you can make them work for you in many. Find out some of the best home decor ideas here.