Meet our new product Acrylic Wall Clock
We have found a new way for you to use your precious photos for decoration around your house. Introducing formally, our new wall clock which is made of acrylic sheets just like our premium acrylic photo frames. They are not your ordinary wall clocks, of course, they show the time just right but they are much more than just a clock. The acrylic wall clocks can be your photo frame and clock in one product. Did you ever visit the market to get a clock for your house, but didn't find quite a fit? Well, customisation has always been our speciality and we have brought you the opportunity to customise your clocks as well. Let us tell you more about the new product launch and the benefits of this item.
Acrylic wall clock
A wall clock is a necessary item for every house. People who stay at home and do not use their handphones to check the time, again and again, need a wall clock. These are people who may be senior citizens or people who truly admire the legacy of the wall clock. Clocks have been a traditionally used machinery ever since it was invented. It not only elevated the ambience but also provided the convenience of knowing the time right away. Before mechanical clocks came into existence time was noted by observing the celestial bodies. The analogue and mechanical clocks are a blessing as they make the work easier for us. Innovating your simple clocks to make them look however you want will allow you to enjoy the benefits of the clock.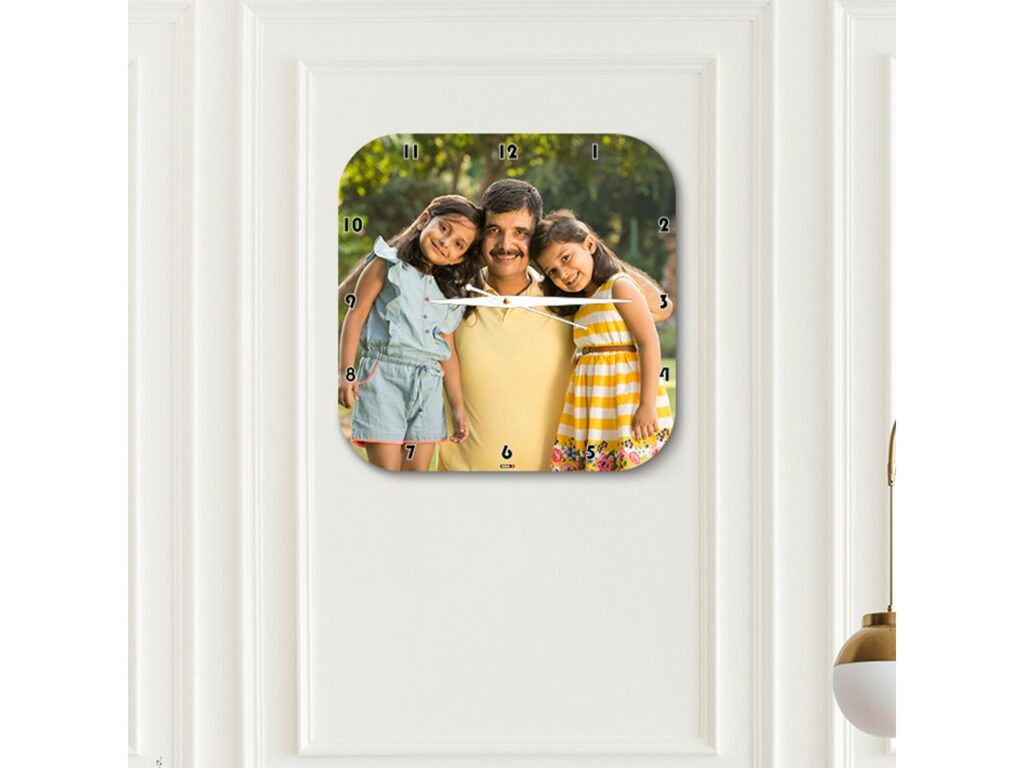 This is why we came up with this acrylic wall clock for you. You can now customise the clock and hang them on your house or office walls for easier access to time. The customisation can be done in a similar way as you customise your photo frames. You can simply start by picking the shape and size of the clock that you wish to purchase. Then you can upload any photo of your choice on the product page. This photo can be adjusted to perfectly fit the clock templates. After uploading your picture on the screen, you see your preview. This will be the exact product that you will receive. Once you are satisfied with the resulting preview you can place your order and rest assured as we deliver to your doorstep.
Benefits of buying an acrylic wall clock from us:
As we said earlier there are multiple reasons for you to switch to acrylic clocks and ditch the traditional analogues. Let's look at some of these benefits that you can enjoy with our new product.
High-quality acrylic prints: When you order one clock from us you not only get a clock to put on your wall but you also get a great quality acrylic photo print. If you have bought our popular acrylic frame then you definitely know what we are talking about. The acrylic sheet is first printed with the customised photo that you provided to us and after that, the clock numerals are printed upon it. The machinery is added at the end to make sure the print is clearly visible first. So, it comes without saying, you are getting two products in one when you purchase an acrylic wall clock.
Unbreakable and sturdy clock: The ultimate benefit of buying from OMGs is that you will never regret the quality of our products. We only sell the strongest acrylic sheets for everyday use. This also applies to our latest acrylic wall clocks that we have for our customers. You will receive the unbreakable and extremely durable acrylic sheets printed with your pictures on them. You can also count on the quality of the analogue clock machinery attached to the acrylic photo.
Bright and beautiful home decor: The acrylic wall clock that you get from us will be the best decorative item that you will have in your home. The clock serves as a great personal picture with a clock function. You can use it in your bedroom or even on the living room wall. The acrylic clock will adorn your wall gracefully. It is a great conversation starter when you have guests at your house.
These are enough reasons for you to try our new launch. Trust the quality of our wall clock and get one for your home. We promise that it will elevate the decoration aesthetics and add a valuable decor piece to your collection that you can use for a long time.