Bored with the artefacts hanging on your walls? Maybe it is time for a little renovation of your room. Change the styles of your bedroom, living room, study room, or even bathroom with some quirky wall posters matching the theme of your room. Wall posters are a versatile decor item that suits any theme or aesthetic. There are many ways in which a wall poster can give the oomph to your room but before we get to decorating, first let's see some important points for using wall posters.
If you have decided to use posters on your wall, you need to be more specific on which wall you are talking about. The type of poster that goes on a wall depends on many factors such as the position of the wall, your likes, and dislikes, the colour of the wall, etc. Once you have all of these figured out, we can dive right into the most important stuff like printing, hanging, and arranging your posters. Assuming you already have a theme for your room let's proceed to use posters for decoration.
Posters: a how-to guide
Posters, as we said, are versatile and can fit into any room aesthetic. So all you have to do is choose your prints, get them printed and arrange them in a way it looks pleasing to the eye. To choose the right prints you need to start with making a list of things you like. These could be your favourite movies, shows, actors, artists, musicians, or people you idolize. Look for the art pieces that deserve a place on your wall, or the band you love to death who must be releasing a limited-edition poster of their new music. Posters are a great way to tell people more about your personality and choices. They are a great way to start a conversation as they might display a common interest between you and a guest at your house.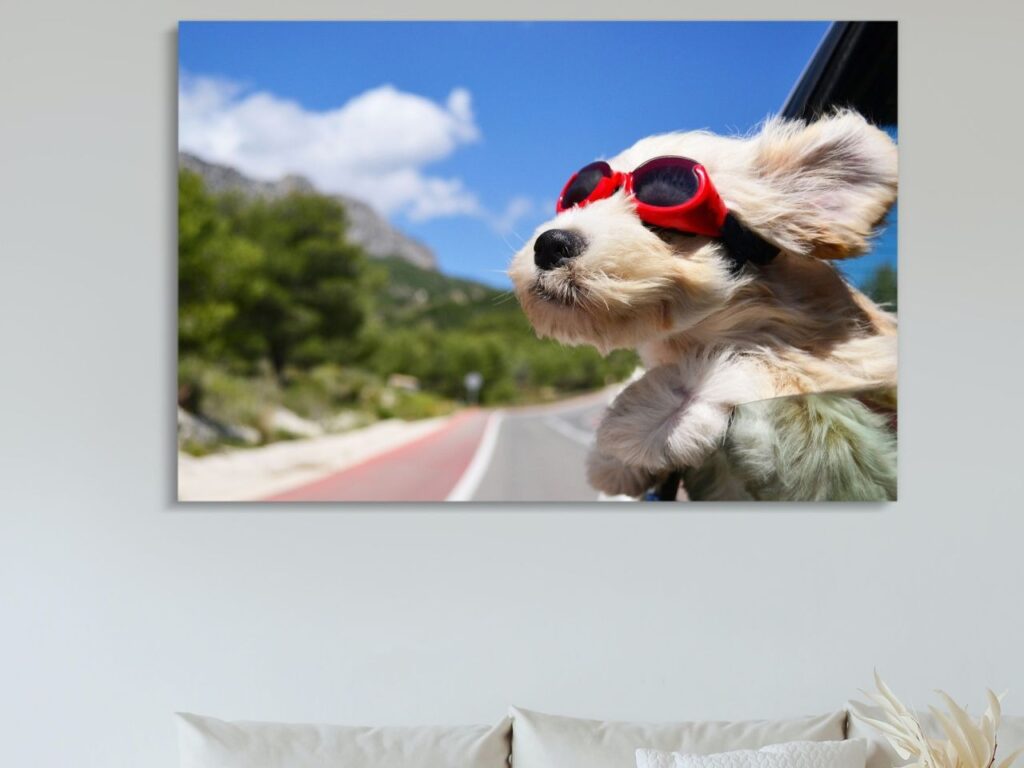 Once you have decided on the designs you will print for decorating your walls, let's get onto the colours. If the colours of your prints are neutrals, black and white, or sepia a matte finished paper will be the perfect match. Matte posters are chick and have a minimalistic, contemporary vibe to them. But if you like the bold and bright colours in your room, you can choose glossy paper for your prints. Glossy poster paper reflects more light and every crease of the paper is visible. However, a cool superhero or art print will look the best in a gloss finish poster.
Do the math
Once you have your designs all sorted it is time to size them. Measure the wall you are decorating in advance to be sure of what size the posters should be. You can get the posters printed in portrait or landscape orientation depending on the print or size of the poster. If you are planning to get multiple posters then it is better to print smaller posters to cover the wall in symmetrical arrangements. If you have a large wall with most of its space unoccupied then you can get a single large print for your wall. This can be your portrait or a nature photography print to adorn your wall.
There are many online stores that help in printing custom posters, you just have to provide the design to them. OMGs prints customized posters for different sizes at very affordable prices.
Arrangements
After finishing up the printing process, it is finally time to put your posters up on the wall. There is no right or wrong way to arrange your posters on the wall. But there are a few things that you should keep in mind. Sort your posters into colour groups. Simply sort the lighter-coloured ones into one pile and the darker-coloured ones into another before hanging them up to keep them distinct. This gives your walls a more streamlined appearance and reduces eye strain. Maintain a linear layout when hanging them on your walls. Having a straight, minimalist design that the eye can readily follow, with even spacing in between, is essentially what this entails.
It makes a tremendous difference as to how expensive your posters appear if you can have them framed. By framing some photos and leaving others unframed, you may create texture by combining 2-D and 3-D elements. If you want a more eclectic, bohemian vibe, mix and match the frames; otherwise, stick to classic solid-coloured frames that are easy to hang.
A poster holds the power to change the feel of that empty space on your wall. With wise decisions on designs or quotes, you can give your room a brand-new look. So, revamp your room aesthetics with customized posters and let us know how it went.