How are acrylic photos printed?
The pictures you keep in your photo album are not going to stay intact for a long time as you expect them to be. The photo paper, however, thick and glossy, cannot sustain a print forever. The paper will wilt and your photo print will fade eventually. This is why the acrylic photo frames were introduced. They are the solution for all your photography problems that may arise with traditional prints. From casual home decor to gallery-grade prints, acrylics can give you any desired look. If you are new to the concept of acrylic prints then you have to start from the basics such as what are acrylic prints and how they are printed. We have covered all the essential information in this blog so you can switch to the best printing technology available.
What are acrylics?
Acrylic sheets are a material derived that belongs to the plastic family. But the combination of acrylic is much different as it is a lot stronger, probably the strongest of all plastics. It resembles glass in a lot of ways such as the reflective surface and the transparent view through the surface. The acrylics are unbreakable as they can endure the effect of their environment really well. They do not shatter if dropped from a height or fade if thrown in water. These exceptional properties make acrylic the best printing material out there. The invincible acrylic has taken the place of glass in many prominent industries. Since it is such a useful material, acrylic is often used for decor purposes. The items made of this material are expected to last a lot longer as compared to other materials.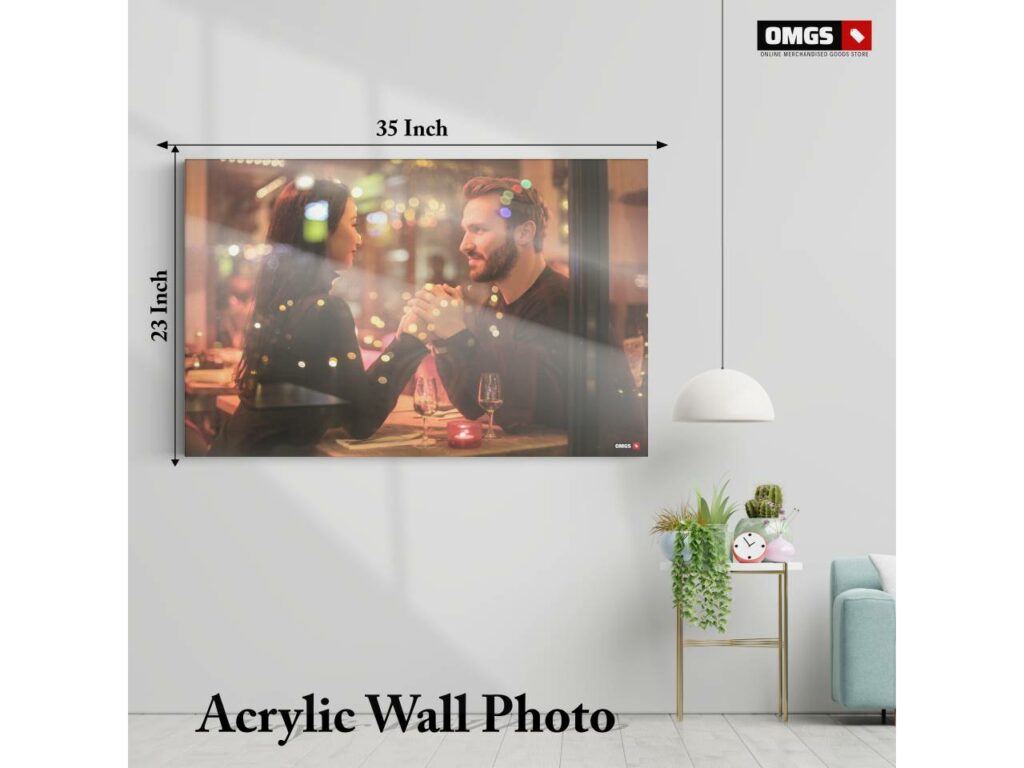 How do you print on acrylic?
Acrylic photo prints are a popular home decor item and hence the number of acrylic photo printing shops is increasing every day. But what is the secret of putting your beautiful memories on a sheet of plastic? Well, the technology has also made some great advancements and provided us with UV printers that can print on many hard surfaces. These printers are designed to print and dry the ink on any surface instantly. The results are bright and beautiful pictures on your favourite acrylic which will stay intact for years. The inks used are fade-resistant so that the environment has no effect on your printed memories. UV printers enhance the colours and quality of any picture but the prerequisite is that the picture has to be high definition from the get-go.
Print photos on acrylic online
Now that you have understood the process that takes place to provide you with luminous prints of your memorable moments, you can order your precious photos on acrylic. There are many shops that you can find online for that perfect print. They have platform m where you can design and customise your prints as per your preference.
Let us take you through the process of printing your photos on acrylic.
Visit the online website of OMGs for the best quality acrylic photo prints.
Go to the acrylic wall photo page to customise your design.
Upload the high-quality version of the photo that you want to be printed on the acrylic sheet.
Choose your frame template and the size that you want the frame to be.
Make your payment and place your order.
You will receive your acrylic photo frame for wall within a week after you have completed the process and made your purchase. Now, only have rest assured and wait for your photo to arrive. Acrylic photos are available offline as well in many local stores that have adapted to UV printing. They are the most affordable pick for home decor that you can get.
Display with acrylic
Once you have received your acrylic photo prints you can start displaying your photos in your house or office. They make the best wall decor for any space as they will lighten up the room. There are various ways in which you can use acrylics for your benefit and renovate your home. You can also use acrylic prints to exhibit your art or photography in a gallery. They make fabulous exhibition prints that will elevate the ambience with their shine. The reflective surface is suitable for both small personal photos and huge gallery-grade prints. If you are looking for ideas to make your personal display you can check out our exclusive blog post here. Hope this information will help you know more about acrylic picture prints and achieve your dream decor theme.