Some of the most loyal and best friends are furry or scaly. They are the little creatures we are fond of and we adore them even when they are troublemakers. Yes, we are talking about your pets. After all, they are your best friends that no one can compare to. With these furry friends, you must have taken a lot of pictures. Be it together with them or of them playing, pictures are the sole physical memory we are left with in life. If you have a pet you are fond of or one that you dearly miss from your childhood, preserving their memories is a great way to keep them alive forever.
A house often has pictures of family members hung on the walls or adorned on furniture. Since your pets are also a part of the family, it is only viable that you decorate the house with some pet photos. Various photo printing techniques allow you to print the precious moments of your dearest pets on different surfaces. The process of customization also gives you the freedom to choose which pictures you want to be printed. Let's see some of the ways in which you can decorate your house with the cute faces of your furry friends.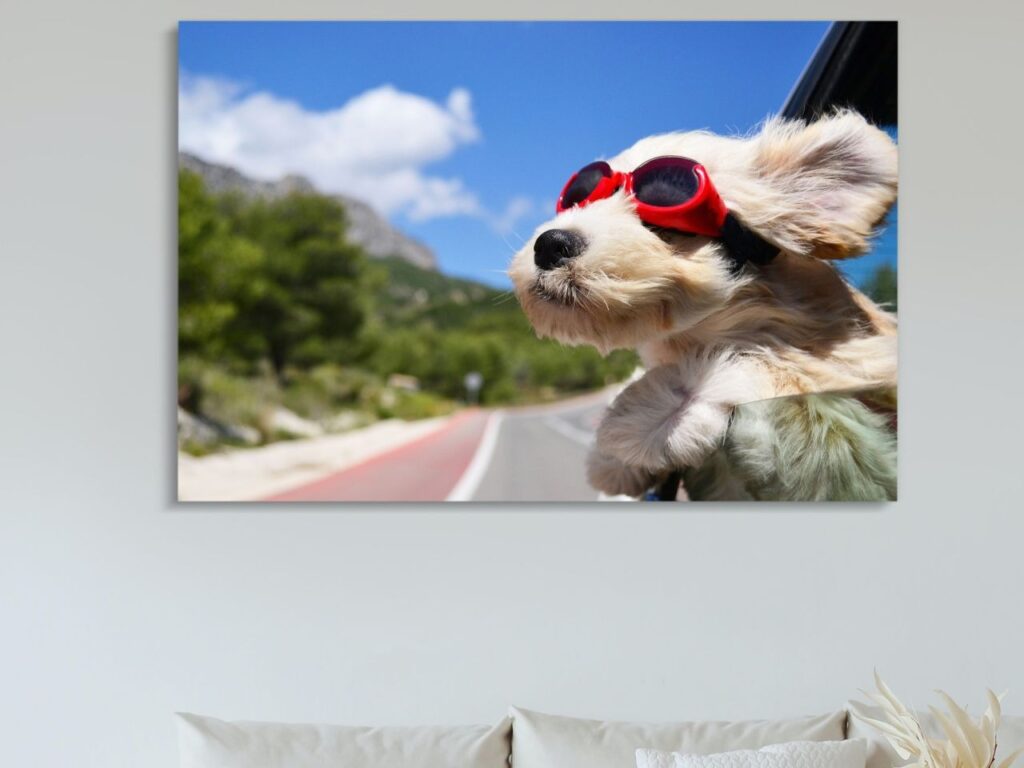 Acrylic photo frames or blocks
We know that the moments you have spent with your pet are unforgettable and will always live in your hearts. The acrylic prints are the best fit considering this emotion as they stay intact for years and years. Your pet's photos will be ingrained on the acrylic sheet and preserved for a long time. The acrylic frames can be made in any shape and size at various online stores such as OMGs. they can be a great decor item that is portable. You can mix them with your family pictures and hang on the walls or set them on tabletops. They take less space and are still elegant to add to your house. You can hang them in a place where your pet frequently rests. This will help them feel special and welcomed around the house. A picture printed on acrylic is also enhanced with the help of advanced printers so that the resulting print reveals the best of your pictures.
Vintage Canvas Art
One classic method for printing your pictures and hanging them around the house is undoubtedly canvas art. You can indulge in a professional photoshoot with your pet and gather some stunning images for your pet gallery. These can be then printed on canvas paper and used for decoration as well. The canvas sheets are made of fabric which gives the printed image a rough texture and a vintage look. The canvas prints are much different from the acrylics as they are not on plastic. The canvas is stitched or attached to a wooden frame. The best part about canvas photo prints is that the sides of the frame are also covered so there's no open space. The full cover gives the print depth that cannot be found in any other kind of printing surface. If you want to display the photos of your beautiful pets in bold colours and textured surfaces then canvas can be the best fit.
Professional Photo Books
For every big event of your life such as a wedding, you definitely get a professional photographer to capture every moment and then get those pictures beautifully curated in a photo book. You can do the same for your pet. You can use their cutest photographs over the years and create a photo book that will be cherished in your family forever. The photobook can be carried and preserved by future generations in reminiscence of your pets. The photo book is different from a scrapbook, it is more professionally printed. However, it can also be customised to look the way you want it to be. You can ask the printing agency to add your favourite colours and decide on a theme for the photobook as well. They provide many pre-designed themes but you can also ask for a new one from scratch.
Unsure of which type of pet image will best showcase your cute pal? When you're ready to print, we're glad to expertly assist you. You may cherish the priceless memories for years to come regardless of how you decide to print your unique pet photography with OMGs.